We cover how a pawn shop loan works in South Africa using the following 6 points:
What a Pawn Shop loan is and the benefits
Where you can get Pawn Shop Loans in South Africa
The Most Money a Pawn Shop will Loan
Pawn Shop Cash Loans
Do Pawn Shop Loans Affect your Credit Score?
What Happens if you Don't Pay Back a Pawn Loan?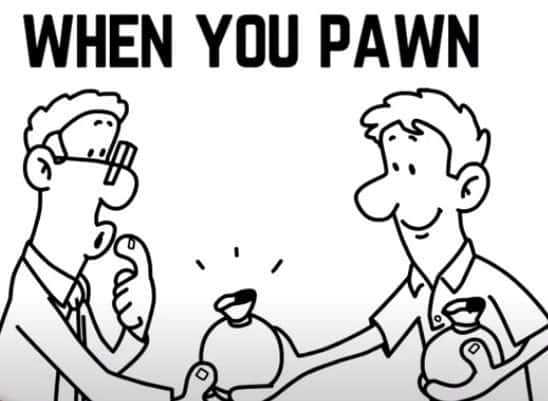 There are plenty of pawn shops in this country that will lend you cash. However this kind of borrowing works a bit differently than your average loan.
So if you are interested in applying, let's get right on and explain exactly how a pawn shop loan works in South Africa.
What a Pawn Shop Loan is and the Benefits
So what exactly is a pawn shop loan?
In a nutshell it is a loan you get from a type of second hand store against personal goods you no longer want or need.
For example: You need a quick cash loan to help you pay some outstanding bills. You don't have the money but you do have some personal items you want to get rid of.
You can pawn items such as:
A television set
Gold and Jewellery
Fitness equipment
Cellphones
A camera
A bicycle
So you can take your personal goods to a pawn shop along with proof of your ID and address.
After that you negotiate with the financial consultant at the pawn shop. The amount they are willing to offer you for a loan against your items.
You come to an agreement on a loan amount and then they do some quick paperwork. Once this is finished they approve your loan and you leave your personal goods with them.
This will often be in the form of an instant cash loan. For larger amounts they will deposit the money into your bank account.
The benefits of a Pawn Shop Loan:
You can get a pawn shop loan if you are blacklisted
There is no credit check on you
This is a quick cash loan
You get the loan instantly
Where you can get Pawn Shop Loans in South Africa
You can get loans at pawn shops in most areas of South Africa.
Pawn Shops in Johannesburg:
PIC Pawn Shop – Malvern
Cash on Trichardts – Boksburg
Quick Cash Pawn Shop – Hillbrow
Rosettenville Pawn Shop – Rosettenville
Brixton Hyper Pawn – Brixton
Cash Corp – Boksburg
Koens Buy and Sell – Alberton
Black Jack – Germiston
Cash in a Flash – Benoni
Planet Pawn Brokers – Benoni
Pawn shops in Pretoria & Centurion:
Pretoria Noord Pawn Shop – Pretoria North
Swop Shop – Gezina
Skatis – Pretoria Gardens
DJ Pawn Brokers cc – Hermanstad
Mountain View Pawn Shop – Mountain View
Bargains Swop Shop – Daspoort
Pawn For Cash – Pretoria West
Lord J Pawn Brokers – Pretoria North
MAXXX Cash Traders – Centurion
Cash Factory Open 24 Hours – Centurion
Wierdapark Traders – Centurion
Pawn shops in Durban:
Hickory's Pawn Shop #1 – South Beach
Bluff Pawn Shop – Fynnlands
RB's Pawnbrokers – Grosvenor
Berea Pawnbrokers & Second Hand Dealers – Congela
Trade4Cash – Greyville
Collecters Exchange – Durban Central
City Gold – Durban Central
Global Salvage – Sea View
Bellair Secondhand Dealers – Bellair
Silverglen Pawnbrokers – Silverglen
Pawn shops in Cape Town:
Mr Cash – Goodwood
The Maitland Pawnshop – Maitland
Kuils River Pawn Shop – Kuils River
Blits Pawn Buy & Sell – Belville
Gold 'n Stones Trading – City Centre
Brackenfell Pawn Centre – Brackenfell
Access Gold – Kenilworth
Mr Gold – Strand
Cash Converters – Somerset West
One Day Pawn Shop – Brooklyn
Some of these stores will offer higher loan amounts than others. In addition interest rates will vary. But generally speaking how a pawn shop loan works is the same principle at most of the stores.
Cash Crusaders is one of the most popular pawn shops in South Africa. They have a lot of franchises around the country that can help you with a loan.
Visit the Cash Crusaders website for details of their pawn loans: https://www.crusaderspawn.co.za/
In addition you can find pawn shops online in South Africa through classified directories such as Gumtree.
The Most Money a Pawn Shop will Loan
In order to get the most money a pawn shop will loan you it's to your advantage to pawn expensive items.
The items that get the most money at a pawn shop are:
Vehicles
Gold and Jewellery
Electronic goods
Instruments
Sports goods
Power tools
In other words, the more expensive the items you want to pawn, the higher the amount of a loan you can borrow.
Most of the stores in South Africa will accept any items you have that are of some value.
Pawn Shop Cash Loans
In South Africa pawn shop cash loans are usually in smaller amounts.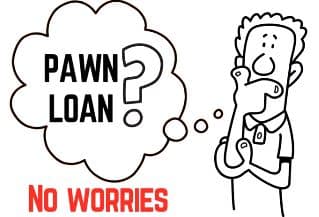 If you pawn a more expensive item such as those we mention above then your money will be paid directly into your bank account.
With the smaller amounts you get the cash quickly and in most cases the loan approval is instant. So you walk out of the shop with the money in your pocket.
Depending on the individual store where you apply for a loan they will have limits on how much they can offer you in cash.
For instance some pawn shops will only offer you up to R1000.00 as cash. Therefore anything over that amount will be an EFT (Electronic Funds Transfer).
Whereas other stores will be prepared to give you a quick cash loan of R5000.00. After that amount further funds go into your bank account.
It's just for security measures. Because it's not safe for pawn shops to keep thousands of Rands worth of cash on the property.
Do Pawn Shop Loans Affect your Credit Score?
No pawn shop loans do not affect your credit score in South Africa.
There is no credit check on loans from a pawn shop. Because you are using the value of your personal goods as security.
Therefore this is a good finance solution for people that need a cash loan with bad credit in South Africa.
It also makes it possible for people with low credit scores in South Africa to get a loan.
You can find out more information on that here: 5 Loans for Low Credit Scores in South Africa.
What Happens if you Don't Pay Back a Pawn Loan?
If you don't pay back the money on a pawn loan in South Africa a few things will happen.
Firstly you will lose the personal goods you have pawned. Because the shop now need to recover the money they lent you.
Secondly you won't be able to apply for another loan from that pawn shop again. So it's best to make your payments in full and on time.
Lastly the positive side of not paying back the money you owe is it won't affect your credit record.
So if you can't pay back your pawn shop loan you don't get a bad credit record.
However, we advise that you should always repay the money you owe to any shop that you borrow money from. Because you never know if you may need a quick cash loan in the future.
In Conclusion…
Pawn shops in South Africa will all have slightly different rules when it comes to borrowing. How a pawn shop loan works at one store could be different from how it works at a similar store in the same street.
In addition interest rates will vary according to the length of term and the amount of cash you can borrow.
So shop around. Compare pawn shop loans from one store to another. Try to get the highest price for the personal goods you want to pawn.
Talk to a financial consultant at the counter. See what interest rates the pawn shop offers. As well as if the interest rates on your loan are negotiable.
More information on other types of shop loans in South Africa here: Game Stores, Cash Crusaders and Pick n Pay Loans