Get loans for low credit scores under 500 and 600 points in South Africa. Because finance is available for even the lowest credit scores.
5 types of loans for low credit scores include the following:
Urgent loans for low credit
Personal low credit loans
Car loans for low credit
Debt consolidation loans low credit
Microloans for low credit
Loans for people with low credit scores may seem like something that are impossible to get. However this is not the case. Because more and more creditors realise that there is a market that is being neglected by the banks.
Therefore people with lower than average credit records can capitalise on this kind of borrowing.
If you don't already know how low your credit score is you can check on this website.
Getting a loan from the bank is generally considered the safer option as banks are governed by credit laws. However if you are unsuccessful there are other avenues open to you.
There is no need for you to keep buying things on your credit card and get yourself further in to debt. Because you can investigate the following options available to you.
Urgent Loans for Low Credit
Urgent loans are available for low credit when you need to get money fast.
These types of loans are simple to apply for and approval can be done in minutes.
Examples of urgent cash loans include:
Quick personal loans
Cash Advance or Payday loans
Emergency loans
Pawn shop loans
The quick personal loans will be your best bet for borrowing. Because of the generally lower interest rates.
Although you need to keep in mind that the lower your credit score, the higher risk you are to lend money to.
In addition this means that interest rates for below average scores on personal loans will be a bit higher than usual.
A cash advance or payday loan is a small amount of money you borrow until you get your next salary. So this is an ideal loan if you only want to borrow a small amount of cash. For a short term.
Emergency loans are available from different credit providers in South Africa.
You can find out more here: Emergency Loans for South Africa Residents.
Pawn shop loans are another good way to get money when you have a low credit score.
You borrow money against personal items you no longer want or need. If you default on payments the Pawn shop will sell your personal goods to pay for the money they lent you.
Find out more about Pawn shop loans here: How a Pawn Shop Loan Works in South Africa
Personal Low Credit Loans
Personal low credit loans for those who need money fast can be for any personal use. For instance holidays, to pay off debts, or to start and expand businesses.
Absa, Nedbank, Standard Bank, Capitec and FNB have all tightened their belts these days. So it has become harder to get loans for low credit scores or for small businesses to get access to finance. Due to certain restraints governed by the credit act.
The best way to try and get access and borrow funds quickly is to apply at alternative creditors online.
A few of the credit providers that offer a cash loan solution for personal reasons will consider lending to those with a poor score on their credit record.
For instance those who may own their own property should have no problems getting access to money reasonably quickly. If they are willing to sign a house or property as security against the amount needed to borrow.
Car Loans for Low Credit
You can get car loans for low credit scores when you need to buy a new car from a dealership in South Africa.
Most car dealers offer inhouse finance to help you afford to buy a car from them.
They often use creditors other than the banks. Therefore there's a good chance they will offer you a loan if you have a low credit score.
As with all borrowing there is certain criteria you need to meet in order to qualify for finance inhouse.
Visit the car dealership in person.
To apply for car loans with low credit take the following:
South African ID – book or card
Drivers licence
Proof of your address
3 months bank statements
Proof of income – payslips or alternative proof
You can also apply online to finance a new or used car with a lower than average credit score.
This may also be of interest to you: Blacklisted Car Finance for People in South Africa
Debt consolidation loans
Instead of paying off your credit card and other debts every month whilst increasing the overall debt, why not consider applying for a debt consolidation loan?
This type of loan is available when you have low credit so will help you get back on your feet.
You have two options.
Firstly if you are a homeowner you can extend your bond in order to cover the outstanding debt. This is preferential. Because you are more likely to have a reduced interest rate than you would if you were to take a personal loan.
If you take out an extension on your bond, you will receive some of the following benefits to consolidating your short term debt:
Improved cash flow
Reduced interest rates
Reduced monthly instalments
Because this all falls under one account, your debt management may become much easier to manage.
Secondly, a personal loan can be taken to cover your debt amounts.
You may think that that higher interest rate is not worth it. But in the long haul it may improve your overall credit rating and therefore will be more beneficial.
There are credit providers that you can apply online for these loans if you can't get a loan from the bank.
Microloans for Low Credit from Microlenders in South Africa
Should you not wish to consolidate you debt and you are looking for loans for people with low credit scores you can visit a microlender.
Microlenders are organisations that take people's money as an investment. Then they loan that money out to someone else. In order for the lender to make money off of the interest that the borrower has to pay.
These loans are commonly referred to as microloans.
This is a great system especially in a country like South Africa where not everyone can afford to invest great amounts in stock trading and property development.
Microlenders therefore facilitate the loans between individuals and ensure that each party benefit from the loan. As a kind of middle-man if you will.
These microlenders offer loans from as little as a few hundred rand to many thousands of rands. Depending on what is required and how many individuals they have that have invested in their organisation.
What is best about these organisations is that they do not charge exorbitant interest rates. These interest rates are higher than what the bank will offer. But they are a lot less that the interest rates offered by loan sharks with no ethics.
More information about loan sharks: Cape Town Loan Sharks – Don't Get Eaten!
The best thing about both of these options is that you can build up your credit score again. So that in future, you can take a secure loan from the bank.
If your credit score is very low, consider the microloan option to help you with your immediate needs.
Credit Scores in South Africa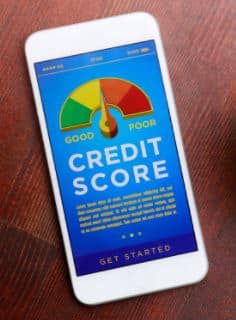 The different credit scores determine if you are a high risk or a low risk when it comes to borrowing.
This list gives you an idea of how a credit provider will see your credit score in South Africa:
Excellent: 767 – 999
Good: 681 – 766
Favourable: 614 – 680
Average: 583 – 613
Lower than average: 527 – 582
Unfavourable: 487 – 526
Low: 0 – 486
As you can see, anything under 600 points is considered quite a low score. Therefore if you are scoring round about 500 – 600 on your credit score in SA you should qualify for any of the loans we've been looking at.
If you are scoring below 400, chances are you won't qualify for loans with a credit score that low.
You should work on improving your credit score if it is very low. Paying regular payments on accounts and bills on time will help you get your score above average.
This will ultimately help you get approval for finance in the future.